Certification & Compliance
Compliance Standards
J & J Carter are dedicated to ensuring we meet the requirements of guidelines and changes in regulations that concern the structural design and engineering of temporary and permanent structures.
This helps to ensure the safety of employees, the public and others who could be affected by such structures.
Changes now require us to use the following codes:-
Eurocode 0 – Basis of Structural Design - B.S E.N 1990 : 2002
Eurocode 1 – Actions on Structures : Wind Actions - B.S E.N 1991-1-4 : 2005 + A1 : 2010
Eurocode 3 – Design of Steel Structures - B.S E.N 1993-1-1/4/8 : 2005
Eurocode 9 – Design of Aluminium Structures - B.S E.N 1999-1-1 : 199
For temporary structures B.S E.N 13782 - Temporary Structures - Tents - Safety will apply. This in turn requires the structural frame to be C.E Marked in accordance with B.S E.N 1090-1 : 2009
J & J Carter are certified in accordance with B.S E.N 1090-1:2009 with a factory production control certificate number 14/3114 and licensed to undertake work up to and including Execution Class 2.
J & J. Carter's Quality and Safety is regulated in accordance with the following standards: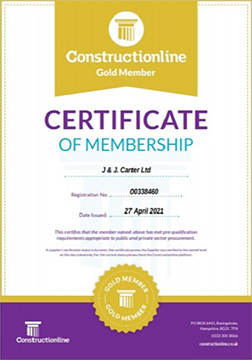 Constructionline - Gold Member
J & J Carter are Gold Members of ConstructionLine, a leading provider of procurement and supply chain management. ContructionLine Gold membership means a high level of scrutiny and risk management across the entire supply chain by extending the mandatory PQQ and including a mandatory Health & Saftey Accreditation. The enhanced PQQ includes verification of Environmental Management, Quality Management, Equalities and Diversity, and extended Health & Saftey.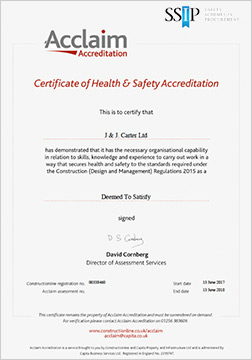 Acclaim Accreditation - Certificate of Health & Safety
This certificate of health & safety accreditation shows that J & J Carter have demonstrated that it has the necessary organisational capability in relation to skills, knowledge and experience to carry out work in a way that secures health and safety to the standards required under the Construction (Design and Management) Regulations 2015.
Acclaim Accreditation is the SSIP member scheme provided by Capita Supplier assessment services. Acclaim uses the expertise and knowledge of Capita Property and infrastructure, leaders in health and safety consultancy, to appraise each application.
CHAS Accreditation
At J & J Carter we put high priority in health and safety, understanding the importance in carrying out correct safety procedures.
Recognising this, J & J Carter were certified CHAS (Contractors, Health & Safety, Assessment, Scheme) for demonstrating compliance with and sound management of current basic health and safety legislation.
From this, J & J Carter has annual assessments to ensure high levels of health and safety management are maintained throughout the business.
ISO 9001:2005 - Quality Management System
One of the many important factors with any project is the Quality of its delivery. At J & J Carter, we place Technical Specification, Quality, Health & Safety as our key factors for delivery. To this end in selecting our own Supply Chain Partners, these factors rank above price.
Recognising the critical importance of customer service and product quality, J & J Carter is certified against ISO 9001 for the Design, Manufacture and Installation of Fabric Structures.
EN 1090 – UKCA / CE Marking
Since the introduction of the Construction Products Regulation J & J Carter was quick to implement the legislative requirements for the UKCA / CE Marking of structural steel and aluminium products. J & J Carter are formally certificated by the UKAS accredited body Centre for Assessment against the EN 1090 up to Execution Level 2; thereby enabling the issue of J & J Carter - UKCA / CE Declaration of Performance certificates for all our products.
In support of our EN 1090 status, our personnel are Coded Welders against the necessary testing standards, with our Responsible Welding Coordinator certified as technical competence.
U.K.C.A / C.E Marking – Non-Metallic Products
J & J Carter have an approved Factory Production Control management system to enable the UKCA / CE Marking of non-metallic products, such as our EcoDam.
Where clients require UKCA / CE certification of our products, we are pleased to announce that we are the only fabrication company who can offer this level of service.
J & J. Carter Limited are full members of the following trade associations: