We design and manufacture a comprehensive range of marquees and marquee accessories from marquee windows, walls, doors, subflooring and more. No marquee structure is complete without the finishing touches.
The event finish is developed using self-levelling floor system, window walls for light, solid walls for insulation, door sets for access and egress and interior linings for decor. J & J Carter are 5th generation tent builders with a strong passion for what we do. Even in the height of event season, we will always try and accommodate customers requests, even if we have to work twice as hard to deliver on time! Contact us today for any of your marquee and tent accessories today!
Window Walls
PVC Window Walls can be made to suit any Marquee, be it an aluminium clearspan or traditional pole tent. With our CNC cutter, we have a catalogue of styles and are also able to provide customised styles.
Clearspan Marquee Walls are normally 3m bay x 2.3m/2.4m/3m high or 5m bay x 2.4m/3m high. Stock patterns including; Georgian, Orangery, Cathedral, Panoramic, French. More contemporary styles include our Wave pattern.
Panoramic Windows by definition are a Roll-Up wall with two zips, next to the Keders. Along the top edge are buckle straps to hold up the wall when the marquee is ventilated.
Like our Premium Duraskin Marquee PVC, the Window PVC is also flame retardant.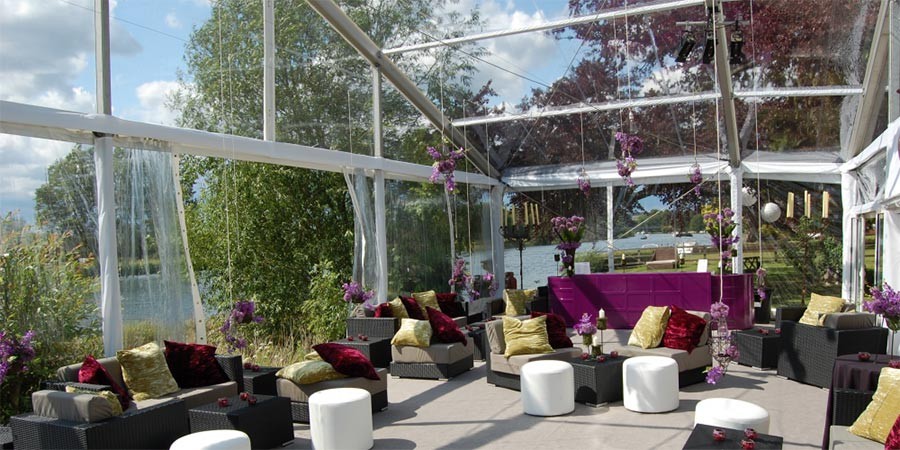 Solid Walls
Our Solid Wall systems are made from virgin grade UPVC. The system is built from a series of 20cm high "double tongue and groove" boards, which are simply provided to the correct length and install into the "U" profiles on the marquee columns. The system is totally modular in its height, whether you are on 2.4m, 3m or 4m columns, just keep adding more boards to achieve the desired height.
The board design is unique and subject to European Design Rights. It's 40mm thick construction enables structures to become insulated and secure. The system has been analysed for wind loading by our structural engineers, as well as having been installed on some permanent sites for over 5 years.
The wall system enables window panels and heater ducts to be inserted. Simply by cutting boards to the correct length, your window panel can be inserted and clad around.
Marquee Doors & Glazing
Aluminium Marquee Door systems provide the all-important necessary access and egress to and from a marquee structure.
From simple single opening to automatic sliding doors, there is an option for everyone. Emergency doors are manufactured with the internal push-bar for ease of exit. Doors can be glazed in various options, including; clear or smoked glass or opaque plain panels.
The event door system can be integrated with its own glass walling to create a complete glazed façade. Heights can be provided from 2.3m to 4m, with customisation becoming evermore popular.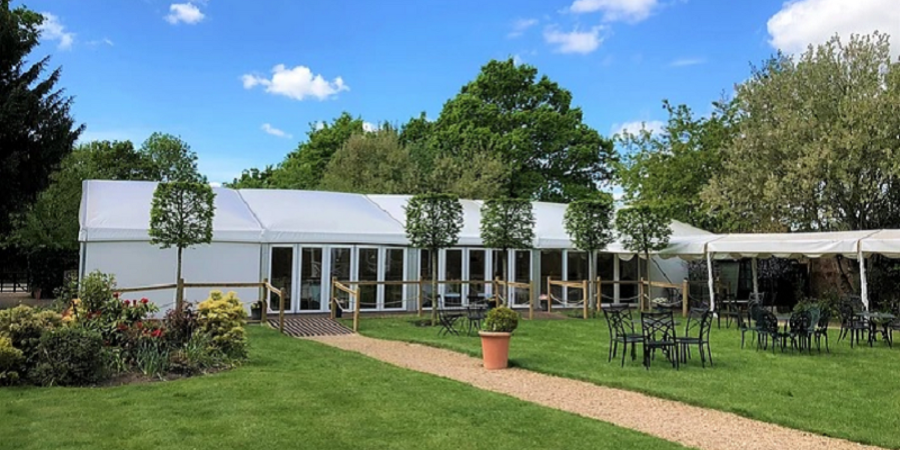 Sub-frame Flooring
Our Hampshire Structures Clearspan Frame Tents can be erected on a sub-frame floor system. Whether it's for an event or semi-permanent installation our sub-frame floors enable a level floor throughout the structure. Floors can be levelled using both major and minor adjustments, often negating the need the to use timber packing.
The frame is made from a hot dip galvanised mild steel structure, built on 3m or 5m bay grid systems. The floorboards are available in a variety of style to suit our clients' requirements. Basic floorboards are plyboard which can be finished with a carpet or vinyl covering. Other such finishes include phenolic coated board which is anti-slip finish, ideal in cafes or restaurants.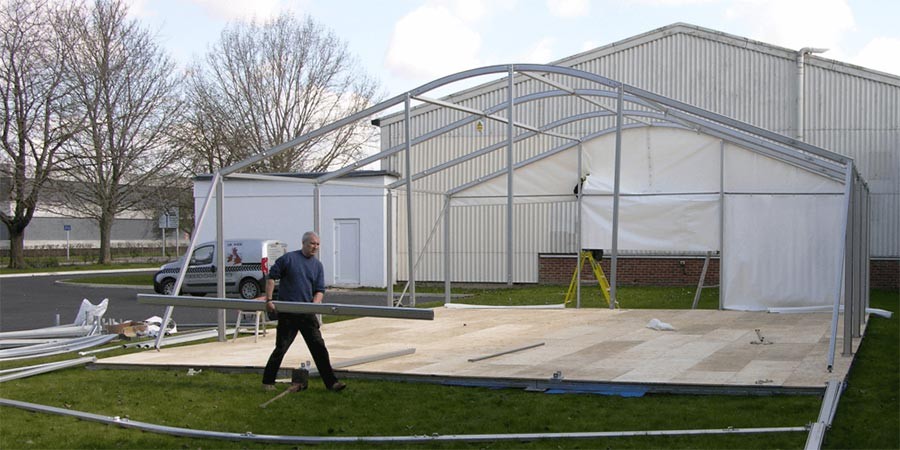 Interior Linings & Decor
The finishing touches to any event will require an interior lining to the marquee. Made from lightweight and flame retardant materials, linings can be provided in many styles. Pleated for weddings, Flat for corporate events, and Tack Off for exhibitions.
The variety of colours and trim levels are immense. Even printed linings are now available for customising the internal of your structure. Linings are completely modular in 3m or 5m bays to match the structure.
Standard stock linings are fitted to a wire or a ridge bar, at the apex of the roof. They are then attached to a wire around the perimeter of the structure. Seams join the roof linings at rafter intervals, allowing lighting teams to run their services concealed in the roof space. Their entire installation is completely hidden from sight