J & J Carter's KUBE is a completely customisable modular multi-storey structure, engineered to the highest of specifications. Perfect for your next branded event, KUBE is one of a kind!
J & J Carter have extensive knowledge in the manufacture of tensile fabric structures and event structures - delivering quality, tailored solutions that provide our customers with industry-leading fabric structures and architecture for any event need. KUBE is available to hire, lease or buy today!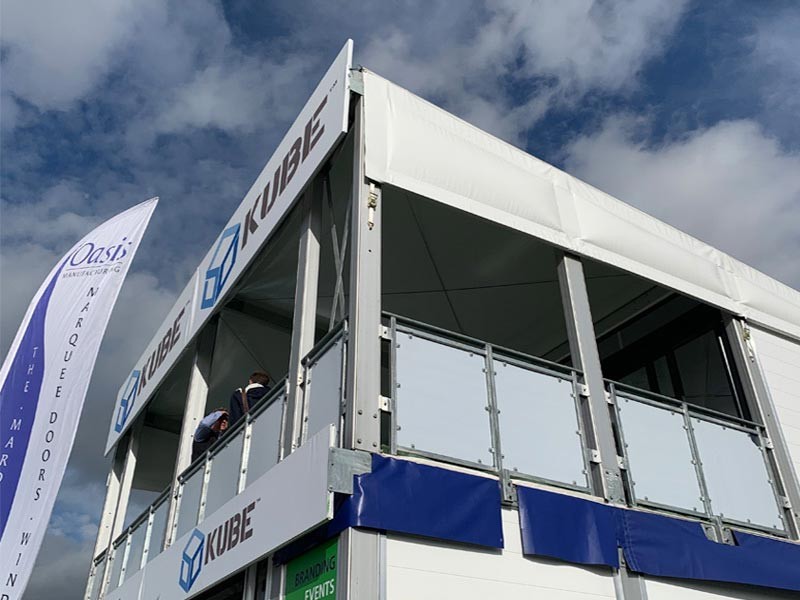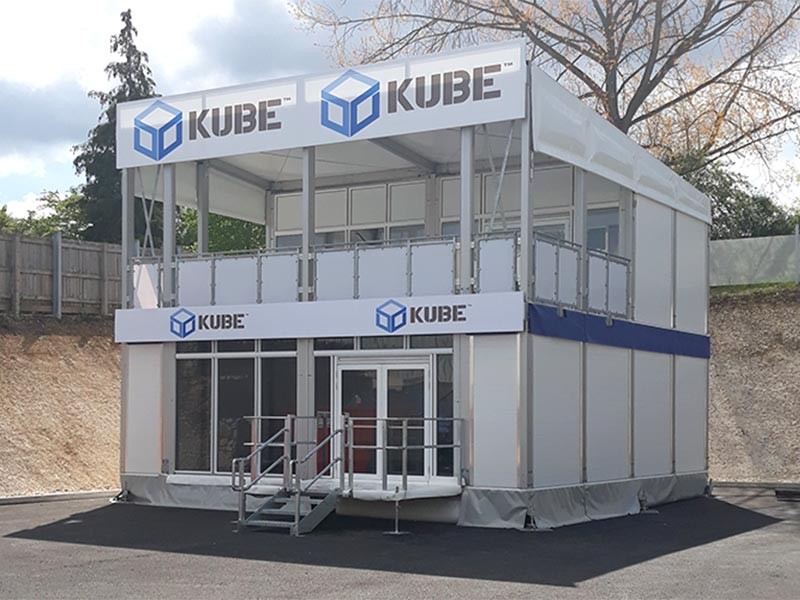 What Is KUBE?
KUBE is an extremely versatile, modular structure that is of outstanding quality, built to perform in both interior and exterior environments.
Its structurally sound design and building components ensure that KUBE is engineered to withstand even the harshest of exterior elements - a real benefit for those looking for a structure that performs!
This unique weatherproof, reusable temporary structure is one of a kind providing a great solution for the events industry and temporary structure market place.
The structure is built on a unique 8m x 8m block grid pattern which can be extended in 4m bays i.e. 8m x 12/16/20.
KUBE provides huge flexibility and a solid platform to meet any and all requirements for those who wish to have a structure to 'wow'.
Structurally Sound Materials
Following J & J Carter's success in receiving CE Marking approval, KUBE is built from CE Approved extruded aluminium profile with integral Keder tracks for the connection of roof and wall cladding.
As standard KUBE is supplied with an insulated double-layer air-filled tensile membrane roof system providing a U-Value of approx. 2.33 W/m2/K. The roof coverings can be translucent, opaque or even coloured which further demonstrates the flexibility of KUBE as a structure.
KUBE's sidewall system is a combination of glazing systems and 40mm thick UPVC solid walling. Glazing systems include glass walls, double opening doors, bi-folding windows and electric doors.
With a combination of strength and lightweight features, KUBE is able to withstand the elements of exterior use, providing a solid structure you can rely on.
KUBE has been designed and engineered in accordance with E.N 13782 as a temporary demountable structure, using the latest Eurocode standards.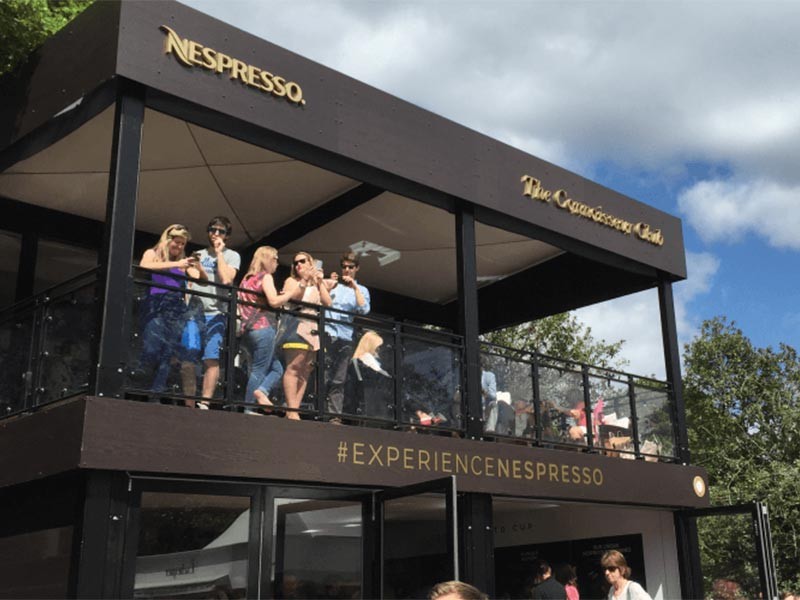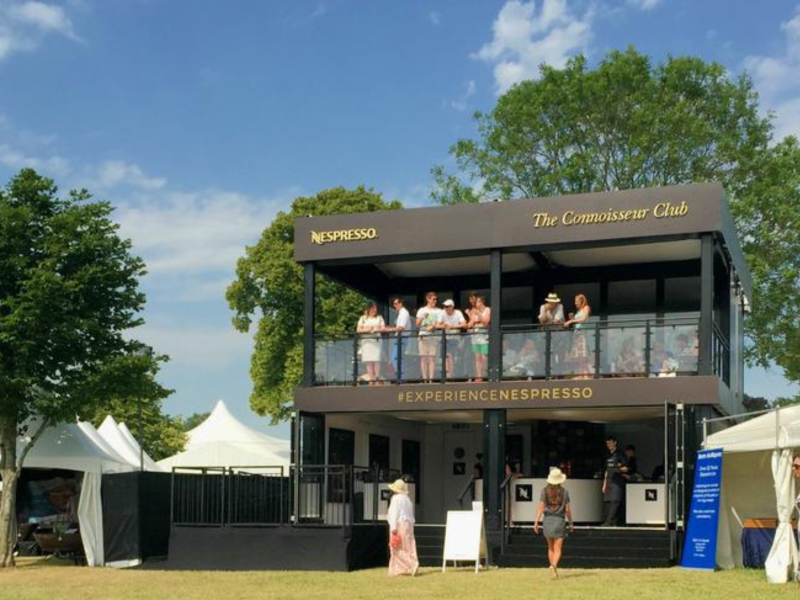 Is KUBE Customisable?
With three main KUBE dimensions to choose from, the answer is - YES.
KUBE can be customised bespoke to your individual specifications.
The customisable features include:
Layout
As a modular design, KUBE is versatile and easy to change and adapt to location and space available.
Branding
KUBE offers the chance for many branding opportunities. Whether it is the roof, side walls, or hoardings. KUBE can be wrapped in a digitally printed skin with your artwork to further personalise the structure.
Wall colour & Roof colour
These are both customisable to your requirements, and can be kept consistent with your branding.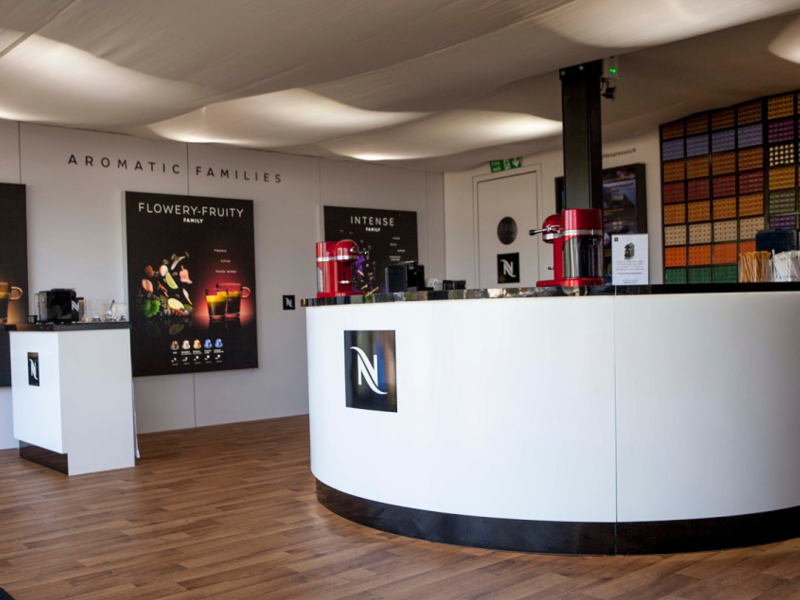 Installation
KUBE when built as a standard 8m x 8m double decker, can be installed and ready for fit out in 2 days, with the help of our dedicated team.
Unlike traditional multi-storey structures, KUBE's unique design enables it to be erected within it's own footprint and it takes only 1 day to dismantle.
Access & Egress
In order to suit all requirements of visiting customers, KUBE can incorporate external ramps, stairs, or even lifts to be fully DDA compliant. Access to the top floor is normally by an internal staircase, however, options also include external staircases or lifts.
Sustainability
The modular design of KUBE permits reusability, recyclability and energy efficiency. This makes it a low impact structure on the environment, supporting sustainable technologies.
Availability
KUBE can be purchased, rented or leased through J & J Carter or one of its licensed operators.
If you are interested in KUBE and want to get more information on our services, please contact J & J Carter.