Welcome to Our New Website!
16 Jan 23
We are very excited to announce the launch of our new website. The team has worked hard to refine the design and deliver an elevated experience for our current and prospective clients. The aim was to create a website that better represents our core values, showcases our skill and expertise in tensile fabric structures, and gives our clients a more immersive experience.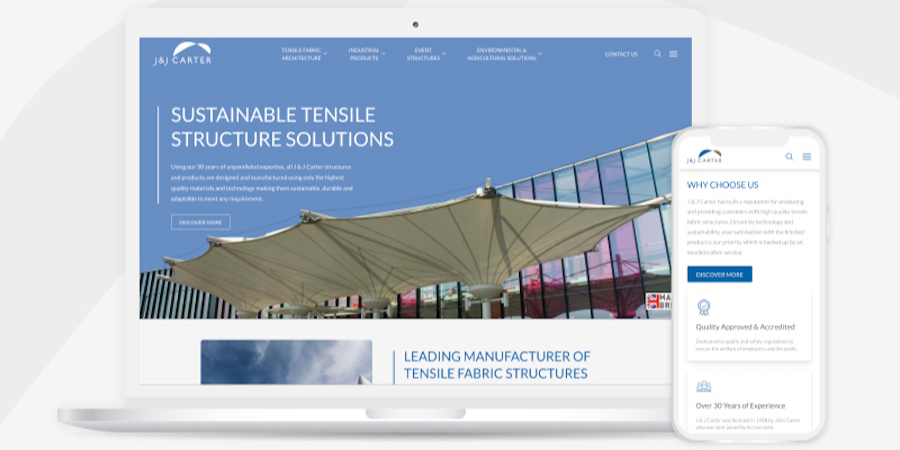 So, What's New?
To help our customers understand exactly what we do, the site includes extensive product and service information. For instance, we have added projects and company information to provide a detailed overview of J & J Carter's capabilities and show how we can supply our bespoke tensile products to a wide range of industry sectors.
Our New Company Timeline.
With over 30 years of experience in the tensile fabric structure industry, we have amassed extensive knowledge and a reputable name. From 1988, when our founder, John Carter, founded the company, to 2023, and the launch of our new website, our new interactive timeline allows you to go back in time and discover what makes J & J Carter the trusted brand that our many clients have found it to be. With a number of exciting developments in the works, this journey is far from over!
FARM 250.
J & J Carter has partnered with Bioplex to develop a new generation of the anaerobic digester (AD) for smaller, family-sized farms, the FARM 250 Anaerobic Digester System. The anaerobic digester allows for sustainable farming, whilst reducing costs and minimising environmental impact. Discover how the anaerobic digester works with our interactive diagram, and learn the benefits and features of sustainable farming equipment.
Enjoy the New Website.
In addition to improving ease of navigation, our new website re-design focuses on sharing our company information and news stories in an interactive and creative way. This has led to the creation of a user-friendly, informative, and modern platform to share our company, keeping you up to date on all the fantastic projects we have worked on. We hope in doing this, visitors to our website will be able to gain an insight into the J & J Carter team and the diverse range of tensile fabric structures we can provide.
We will continue to renew our content for you with company announcements and project updates on our dedicated news page.
Enjoy your visit to our new website and we look forward to sharing our next steps with you!