J & J Carter, in partnership with Bioplex, have created a comprehensive anaerobic digester for biogas production.
J & J Carter have partnered with Bioplex, to develop a new generation of an anaerobic digester (AD) for smaller, family-sized farms, the Farm250 Anaerobic Digester System. The anaerobic digester allows for sustainable farming, whilst reducing costs and minimising environmental impact. Anaerobic digestion is complementary to other renewable energy sources, such as wind, solar and micro-hydro. With a new generation of digesters, the farm can meet all its energy needs, with the surplus energy made available for the local community.
What is anaerobic digestion?
Anaerobic digestion is a series of biological processes in which microorganisms break down biodegradable materials in the absence of oxygen. One of the end products is biogas, which is combusted to generate electricity and heat, or can be processed into renewable natural gas and transportation fuels. Anaerobic digestion converts livestock manure, municipal wastewater solids, food waste, and other organic waste streams into biogas - 24 hours a day, 7 days a week. Separated digested solids can be composted, utilised for dairy bedding, directly applied to cropland or converted to other products. Nutrients in the liquid stream are used in agriculture as fertilizer.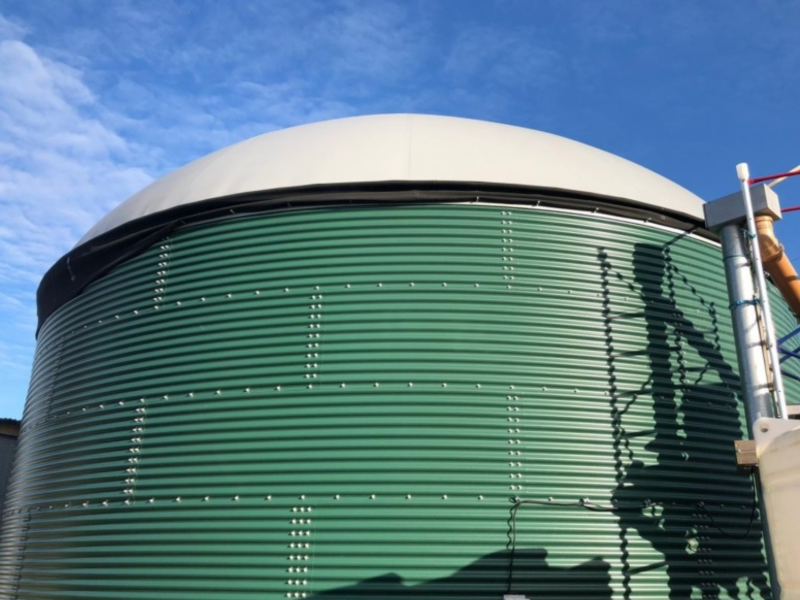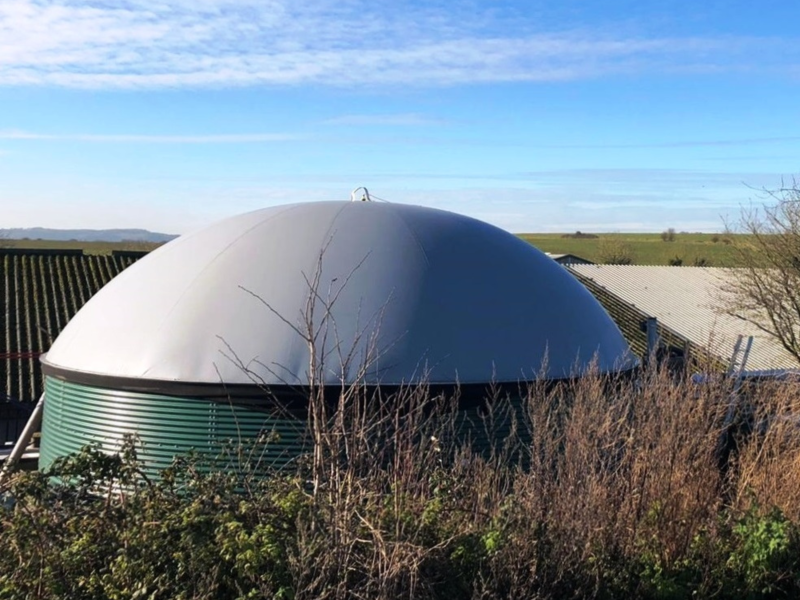 Benefits
There are many benefits to installing an anaerobic digestor for smaller-scale farms and facilities, including:
An eco-friendly and sustainable energy source
Low capital and installation costs
Improves soil, water & air quality
Generate organic fertiliser
Absolute odour containment
Boosts rural economy
Diversified farm income
Features
Some of the many features of an anaerobic digestion system are the following:
Can be run off the grid, ideal for remote locations
A nominal power output of 30kW, can be upgraded to 50kW
The weatherproof external membrane can withstand external loading of wind, rain and snow, typical of the UK
Critical inner gas holding membrane is independent of the outer membrane
PVC-coasted polyester fabric membranes, stainless steel anchors
Airflow between the membranes is accurately controlled
Manufactured off-site for a simpler and faster installation
Maintenance and Cleaning of Existing Anaerobic Digestion Systems
The build-up of debris and grit can negatively impact the operation of digesters, reducing biogas yield. Once this build-up occurs, it is imperative to perform a thorough clean of the digester tank. It's essential to contract trained and experienced personnel who can quickly and safely remove all organic and inorganic materials that interfere with the overall operation.
No matter how advanced your digestor is, it will eventually need to be cleaned. We recommend a thorough cleaning of your digestor every 3 to 6 years. During the cleaning process, it is also important to inspect the digester system and take steps to ensure everything is working properly.